Category Archives:
Short Interesting Things
I've recently moved in to a new flat, and have bought lots of bookcases to store all of my books. Of course, I had the terrible decision to make of how to arrange all of my science books. I mean I could categorise them fairly easily (maths, physics, biology etc), but what order do I put these in?
When thinking of this I thought of the xkcd comic below, and had an idea: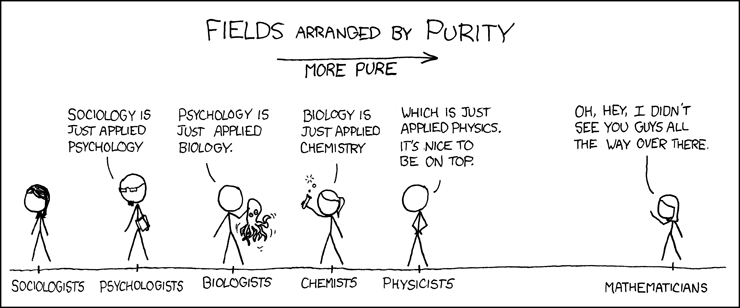 Why not arrange them by 'purity'? Well – that's what I did (see below):
I should point out that computing is definitely not purer than mathematics, but it is on the top shelf as that is the only shelf that my fiancee can't reach, and she rarely (if ever) uses those books. Apart from that though, it is pretty much in purity order…
My fiancee is studying in Lille, France at the moment, and I spent last week with her in Lille, including a two-day trip to Paris. During my time I noticed a number of interesting (or  at least semi-interesting) things about life in France:
Pedestrian crossings are scary! When the green man is shown it does not necessarily mean that it is safe to cross. What it actually means is that you are protected from traffic coming straight ahead, but not from those turning right or left. In practice this means that most foreigners (and a lot of natives) sprint across the pedestrian crossings to try not to get killed!
The number of bakeries per capita in France is awesome. Within 30 seconds walk from our hostel there were three awesome bakeries. This pleases me very much.
For some reason nearly every street corner in Paris seems to have a condom machine on it. I have no idea why they need that many machines.
The street sellers at the bottom of the funicular railway in Montmartre are very pushy. Both times we walked past there one of them tried to tie some sort of piece of string to my fiancee's hand. Strange.
The Paris metro has a lot of lines – 15 standard metro lines, plus 5 RER (a sort of express metro) lines. In comparison London Underground has just 11. This means that they've run out of colours for the metro map – meaning that you have a number of lines which are similar colours (particularly greeny-olive-brown colours), making it very difficult to tell the difference (particularly in low-light conditions).
However, the amazing thing about the RER lines is that they have double-decker underground trains (see the picture below). This is awesome.

The Arc de Triomphe is more interesting than I thought – there is a good exhibition in it about historical events that have happened there. The tomb of the unknown soldier is there, and the flame over it is lit every evening.
French railways seem to be a mixture of very high-tech and very low-tech. For example, TGV trains are very fast, and work very well, but their departure boards at Paris Gare du Nord are the old-style clicky boards (the ones that click round loads of times to show the right destination and time).
It's amazing how much random French I know. For example, the emergency stop signs on all the metro trains have a notice by them saying "… … sera puni". From the old song Que sera, sera I know that "sera" means "will be", and therefore not to press the button as I might be punished! Also, trains in France are retarded (actually "retarde") when they are late, another thing I realised I knew.
(P.S. Bill Bryson's Notes From A Small Island
and Notes From A Big Country
are very good books, and yes I did steal the title idea from him)
It's amazing what gets covered in lectures when you're studying geography…
Today in my GEOG2006: Quaternary Environmental Change we were learning about extinctions during the Holocene (last 10,000 years ish). In a slight aside from the topic, while talking about the Black Rat (rattus rattus) and the Brown Rat (rattus something elseus) our lecturer (Tony Brown) told us that actually most of the evidence now points to rats not being involved in the bubonic plague in Britain.
He suggests that various bits of evidence point towards this:
Rats move

very slowly

– at least compared to various other creatures. The bubonic plague spread from south east Kent to Derbyshire in about six months – the rats would have had to have been running for the entire six month period to get there that quickly!
The bubonic plague flea lives only on Black Rats. These are nowhere near as widespread as brown rats (in fact at the moment they're on the endangered species list) and, as far as we know, have never been widespread in Britian – they only existed in small pockets around points of entry (normally ports like Southampton, Liverpool, London and Bristol).
It is almost possible to predict who in each village will get the bubonic plague – it seems to be almost always related to contact with other people. For example, the vicar and the doctor are likely to get it – even though they are likely to be relatively upper class and therefore less likely to have rats living in their houses.
Overall this seems to suggest that bubonic plague was an entirely human-spread contagious disease.
(NB: This entire post may be wrong. If so – it's not my fault! I'm just reiterating information I heard from my lecturers…)