Amazing software you haven't heard of
Every so often, on my travels around the internet, I come across a piece of software which is so great that I wonder why on earth I haven't heard of it before. The software listed below falls into this category, and hopefully by posting the list here I will allow more people to find them.
AeroFS
This is an online file-synchronisation service similar to Dropbox but with one key difference: nothing is stored on a cloud server unless you specify that it should be. That is, the synchronisation takes place through a securely encrypted tunnel between your computers running AeroFS, and is never stored in the cloud. This has a number of benefits: it means you can store as much as you want on your AeroFS drive without having to pay for cloud storage, and it means that data is not stored on third party computers (essential for some business applications). It is cross-platform (Windows, Linux, Mac) and free – what more could you want?
Caffeine
This simple app does one simple thing, but is invaluable. Do you ever find that your MacBook screen's backlight goes off while you're busy watching a film, showing your family photos, or busy watching a process complete. By clicking the coffee cup icon that Caffeine puts in your menu bar you can stop the screen backlight from switching off. Simply click the icon again to get it back to normal.
Max
We've all done it: suddenly needed to convert an audio file and googled "Convert from X to Y" and found a huge list of ad-riddled pages explaining how to do it if you buy their ghastly shareware software. Although I sometimes like to stick to good-old command-line tools like ffmpeg, I quite like finding a nice GUI tool to do this. Max allows you both to rip CDs (through a variety of methods) and convert audio files that you already have, all through a nice GUI interface, with no dependencies on other software. Unfortunately it's Mac only.
Evom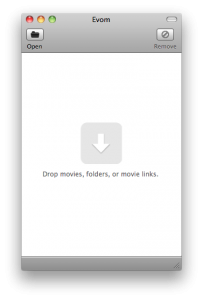 Similar to Max, but for video – this program will convert any video files you have to other formats, and download YouTube videos to any format you want. It'll even let you convert files into just the right format for playing on various hand-held devices (iPods, iPads, mobile phones etc).
DTerm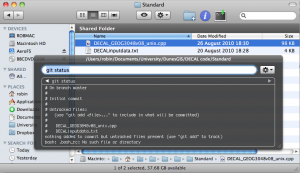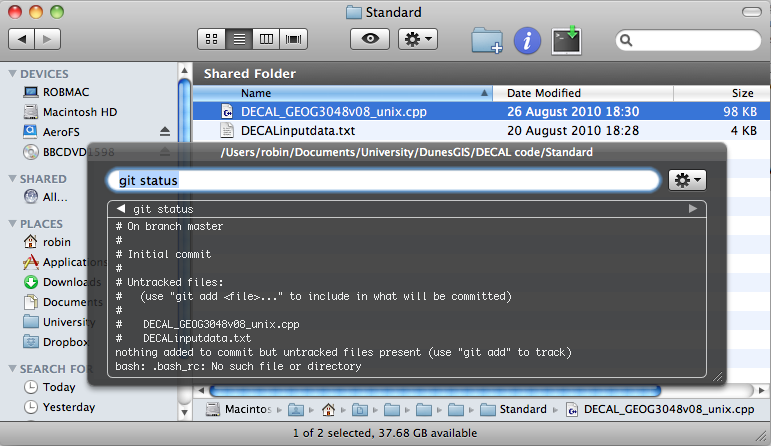 I've mentioned DTerm before on my blog, and I really can't live without it on my Mac now. It allows you to quickly open a simple command prompt in any directory, and execute a command there (with full output shown), or switch immediately to a terminal focussed on that folder, ready to do any other processing you might need. It does full command-line completion, and I haven't yet found a command that won't work in DTerm's terminal.
---
Categorised as: Computing, Linux, OSX, Windows
---