Two great IPython extensions
I bought a new laptop recently, and just realised that I hadn't installed two great IPython extensions that I always try to install whenever I set up a new IPython environment – so I thought I'd blog about them to let the world (well, my half-a-dozen readers) know.
They're both written by MinRK – one of the core IPython developers – and provide some really useful additional functionality. If you're impatient, then download them here, otherwise read on to find out what they do.
Table of Contents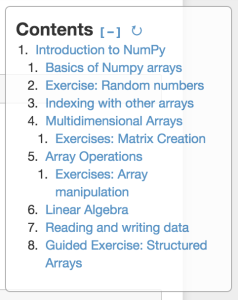 This extension provides a lovely floating table of contents – perfect for those large notebooks (like tutorial notebooks from conferences). Simply click the button on the toolbar to turn it on and off.
Gist
This provides a simple button on the toolbar that takes your current notebook, uploads it as a gist to Github, and then provides you with a link to view the gist in nbviewer. In practice what this means is that you can be working on a notebook, hit one button and then copy a link and share it with anyone – regardless what level of technical experience they have. Really useful!
These are both great extensions – and I'm sure there are far more that I should be using, so if you know of any then let me know in the comments!
---
Categorised as: Computing, Programming, Python
---